---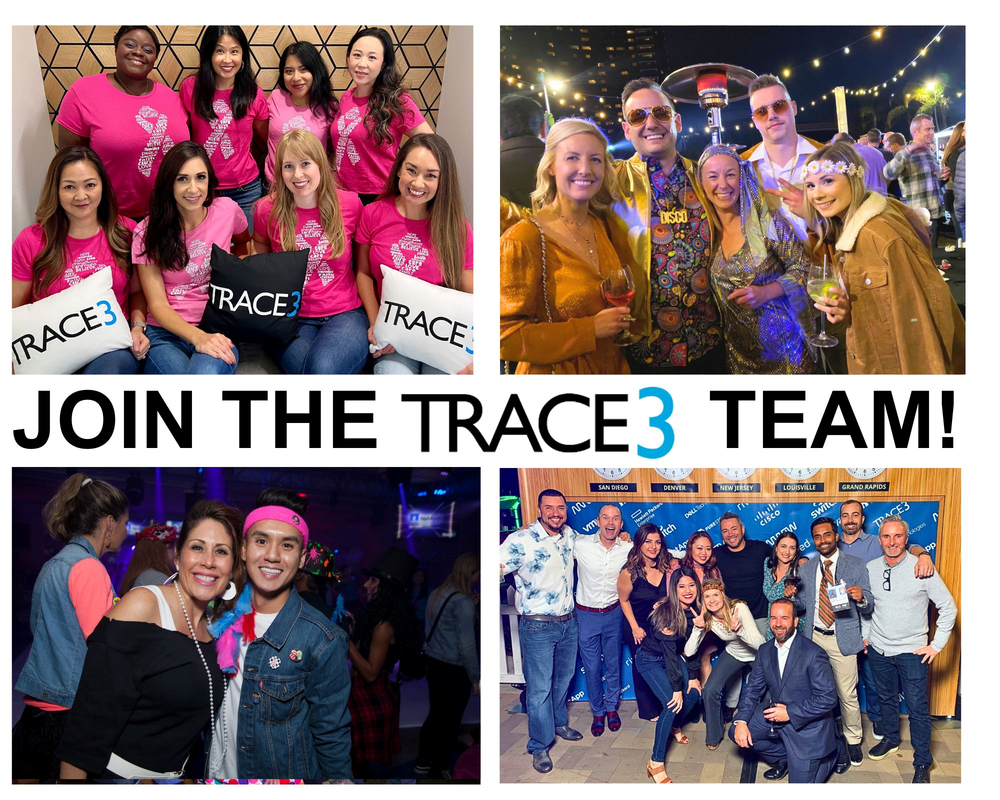 Who is Trace3?
Trace3 is a leading Transformative IT Authority, providing unique technology solutions and consulting services to our clients. Equipped with elite engineering and dynamic innovation, we empower IT executives and their organizations to achieve competitive advantage through a process of Integrate, Automate, Innovate.
Our culture at Trace3 embodies the spirit of a startup with the advantage of a scalable business. Employees can grow their career and have fun while doing it!
Trace3 is headquartered in Irvine, California. We employ more than 1,200 people all over the United States. Our major field office locations include Denver, Indianapolis, Grand Rapids, Lexington, Los Angeles, Louisville, Texas, San Francisco.
Ready to discover the possibilities that live in technology?
Come Join Us!
Street-Smart - Thriving in Dynamic Times
We are flexible and resilient in a fast-changing environment. We continuously innovate and drive constructive change while keeping a focus on the "big picture." We exercise sound business judgment in making high-quality decisions in a timely and cost-effective manner. We are highly creative and can dig deep within ourselves to find positive solutions to different problems.
Juice - The "Stuff" it takes to be a Needle Mover
We get things done and drive results. We lead without a title, empowering others through a can-do attitude. We look forward to the goal, mentally mapping out every checkpoint on the pathway to success, and visualizing what the final destination looks and feels like.
Teamwork - Humble, Hungry and Smart
We are humble individuals who understand how our job impacts the company's mission. We treat others with respect, admit mistakes, give credit where it's due and demonstrate transparency. We "bring the weather" by exhibiting positive leadership and solution-focused thinking. We hug people in their trials, struggles, and failures – not just their success. We appreciate the individuality of the people around us.
About the Role:
Under the general direction of the Managed Services Director, Client Solutions, the Sr. Solutions Architect will assess opportunities and identify "best fit" Managed Services offerings to respond to account team and end customer information requests, and then lead the team in the solutioning and pricing of service components that meet or exceed customer requirements.
What You'll Do:
Lead the Managed Services team in the solutioning of service components that meet or exceed customer requirements, and position T3 for a differentiated response. Work includes creation of an overarching approach timeline and management of internal prep meetings.
Aggregate and tune team content responses into a unified communication, work with Managed Services Business Units (BUs) to assess/tune budgetary LOEs and pricing sheets and ensure a quality response is delivered to account team within expected OLA, typically 2 business days. Follow-up with Managed Services BUs to validate timeline is on track.
Identify and quantify all cost factors involved in the project. Obtain material pricing from vendors and organize all the information necessary to create and submit proposals to clients. Use detailed spreadsheets and company-approved formulas to calculate the project costs of proposed projects.
Serve as a Subject Matter Expert to help identify and qualify Managed Services opportunities. Maintain in-depth knowledge of company offerings via training and research. Be familiar with all the technical aspects and issues of the products or services.
Participate in customer solution presentations and deliver Managed Services content and value positioning. This includes developing a detailed scope of work to summarize in clear terms the system functionality specific to client/end-user needs for each project.
Work with the sales team to technically advise on the sales of products. Explain the technical aspects and functional aspects of a product or service to users.
Prepare and submit RFI/RFP responses before the due date to clarify discrepancies in the specifications, plans, or scope of a project designed by an outside architect/consultant.
Interface with internal Managed Services team, account teams and Client Success Managers in the preparation of final LOEs and SOWs
Establish a rapport and confidence with account teams and clients and maintain client satisfaction throughout the solutioning and sales lifecycle.
Establish and maintain working relationships with vendors and subcontractors.
Assists in developing IT Solution design templates, standards, and guidelines to improve solution accuracy and efficiency.
Manage marketing activities for Managed Service offerings and assist in researching and developing new products.
Qualifications & Interests:
Bachelor's Degree from an accredited university.
7+ years of managed services solutioning and sales support focused on Fortune 1000 accounts.
A solid technology background as a technology engineer, infrastructure architect, solution architect, or other relevant technical role within:

Network
Data Center Infrastructure
Cloud
Security
Collaboration

Cost analysis and experience developing pricing outputs based on a Level of Effort (LOE) or Basis of Estimate (BOE)
Proven track record of structuring and closing complex $1M-$5M+ ARR agreements.
Strong communication skills both internally and externally, with the ability to present dynamic and complex business solutions to clients of all levels.
Excellent interpersonal and organizational skills, ability to handle diverse situations, multiple pursuits and rapidly changing priorities.
Strong conflict resolution and/or mediation skills.
The Perks:
Comprehensive medical, dental and vision plans for you and your dependents
401(k) Retirement Plan with Employer Match, 529 College Savings Plan, Health Savings Account, Life Insurance, and Long-Term Disability
Competitive Compensation
Training and development programs
Stocked kitchen with snacks and beverages
Collaborative and cool culture
Work-life balance and generous paid time off
***To all recruitment agencies: Trace3 does not accept unsolicited agency resumes/CVs. Please do not forward resumes/CVs to our careers email addresses, Trace3 employees or any other company location. Trace3 is not responsible for any fees related to unsolicited resumes/CVs.