---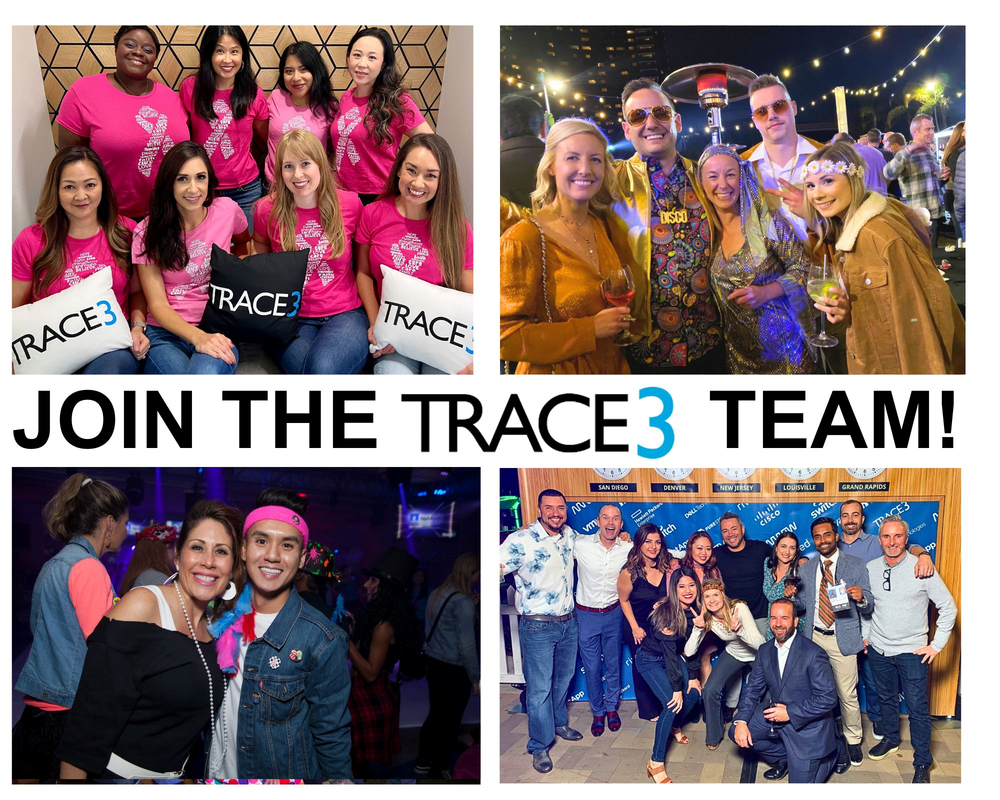 Who is Trace3?
Trace3 is a leading Transformative IT Authority, providing unique technology solutions and consulting services to our clients. Equipped with elite engineering and dynamic innovation, we empower IT executives and their organizations to achieve competitive advantage through a process of Integrate, Automate, Innovate.
Our culture at Trace3 embodies the spirit of a startup with the advantage of a scalable business. Employees can grow their career and have fun while doing it!
Trace3 is headquartered in Irvine, California. We employ more than 1,200 people all over the United States. Our major field office locations include Denver, Indianapolis, Grand Rapids, Lexington, Los Angeles, Louisville, Texas, San Francisco.
Ready to discover the possibilities that live in technology?
Come Join Us!
Street-Smart - Thriving in Dynamic Times
We are flexible and resilient in a fast-changing environment. We continuously innovate and drive constructive change while keeping a focus on the "big picture." We exercise sound business judgment in making high-quality decisions in a timely and cost-effective manner. We are highly creative and can dig deep within ourselves to find positive solutions to different problems.
Juice - The "Stuff" it takes to be a Needle Mover
We get things done and drive results. We lead without a title, empowering others through a can-do attitude. We look forward to the goal, mentally mapping out every checkpoint on the pathway to success, and visualizing what the final destination looks and feels like.
Teamwork - Humble, Hungry and Smart
We are humble individuals who understand how our job impacts the company's mission. We treat others with respect, admit mistakes, give credit where it's due and demonstrate transparency. We "bring the weather" by exhibiting positive leadership and solution-focused thinking. We hug people in their trials, struggles, and failures – not just their success. We appreciate the individuality of the people around us.
About the Role:
The Sales Operations and Enablement Manager will provide support to the Sales organization as well as related departments (Customer Success, Strategic Alliances, Business Units) through a variety of associated responsibilities that ensure sales and lead generation objectives are being attained. This position is also responsible for sales enablement, talent development, data hygiene, as well as correlated tasks that assist in new revenue acquisition.

The Sales Operations and Enablement Manager will support functions essential to department productivity, enablement, and new revenue acquisition within the following channels: direct, indirect, and strategic alliances. These include planning, reporting, sales process optimization, large proposal process management, sales content management, training, and sales program administration.
What You'll Do:
Aligns with Business Unit Leaders, Strategic Alliances, and Marketing to achieve demand generation and new revenue acquisition impact.
Engages implementation, service, bid response, and other practice leadership as needed, coordinating with the appropriate management-level supervisors.
Fosters close, cooperative relationships with peer leaders, sales reps, solution engineering, and sales support personnel.
Sales Enablement ("Activate & Optimize"):

Assist in the success of lead-generation activities that impact the sales team
Talent Management: Onboarding and assistance in the creation and development of a Learning and Development Program. Sales team capability and performance reporting.
Data Management: Proposal and content repository, continuous improvement, sales support materials.
Data analytics: Provide prospect trends and buying criteria, historical CRM statistics to optimize sales efforts and better identify potential customers, and strategic analysis.
Sales content creation
Reinforce, support, and maximize partner funding programs
Collaborate with other departments to ensure team deliverables are handled efficiently
Travel, plan, and participate in sales/company-related events
Sales Operations ("Set up, Analyze, and Support"):

Identify where enhancement is needed in sales practices, make suggestions, and assist in improvements.
CRM and CPQ development: Data/ process governance, and end-user functionality support necessary to improve efficiency and reporting. Qualification to close process optimization.
Develop and maintain data management systems and dashboards: Enforce data hygiene, governance, enrichment, and prepare pipeline reports/ forecasting.
Assess, analyze, and interpret Business Intelligence across prior years to current year results.
Create and maintain documentation: sales processes, training, and document version management.
Enforce acceptable ideal customer profile inside of pursuits, Go/ No-go LDP process
Sales tech stack development, support, and optimization
Communications: Create "Win Wires" for new logo closes and correspondences to the company, alliances, and partners.
Launch and manage effective incentive programs
Enforce agreements and commission policies
Qualifications & Interests:
Bachelor's degree from an accredited university
A minimum of 5 years experience in Sales Operations and Sales Enablement
Strongly skilled in organization, problem-solving, and multitasking while being committed to excellence.
Effective communication skills (ex. Management interactions, creating and distributing company-wide communications).
Strong presentation skills (In-person training and development)
Demonstrated ability to manage analytical initiatives
Strong proficiency in MS Office, MS Dynamics CRM, and CPQ automation tools
Project management
Ability to follow a structured sales methodology as well as meet/exceed sales goals
Strong interpersonal communication skills
Results-oriented, entrepreneurial, innovative attitude
Strong work ethic and are eager to learn
15% - 20% Travel
The Perks:
Comprehensive medical, dental and vision plans for you and your dependents
401(k) Retirement Plan with Employer Match, 529 College Savings Plan, Health Savings Account, Life Insurance, and Long-Term Disability
Competitive Compensation
Training and development programs
Stocked kitchen with snacks and beverages
Collaborative and cool culture
Work-life balance and generous paid time off
***To all recruitment agencies: Trace3 does not accept unsolicited agency resumes/CVs. Please do not forward resumes/CVs to our careers email addresses, Trace3 employees or any other company location. Trace3 is not responsible for any fees related to unsolicited resumes/CVs.