---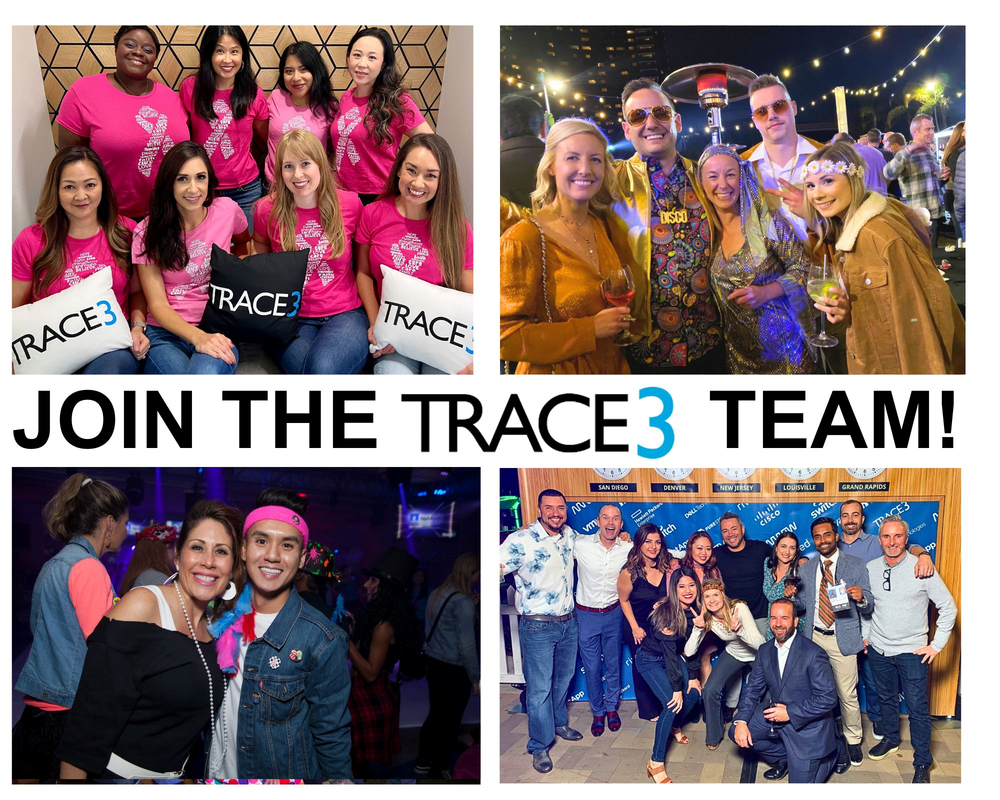 Who is Trace3?
Trace3 is a leading Transformative IT Authority, providing unique technology solutions and consulting services to our clients. Equipped with elite engineering and dynamic innovation, we empower IT executives and their organizations to achieve competitive advantage through a process of Integrate, Automate, Innovate.
Our culture at Trace3 embodies the spirit of a startup with the advantage of a scalable business. Employees can grow their career and have fun while doing it!
Trace3 is headquartered in Irvine, California. We employ more than 1,200 people all over the United States. Our major field office locations include Denver, Indianapolis, Grand Rapids, Lexington, Los Angeles, Louisville, Texas, San Francisco.
Ready to discover the possibilities that live in technology?
Come Join Us!
Street-Smart - Thriving in Dynamic Times
We are flexible and resilient in a fast-changing environment. We continuously innovate and drive constructive change while keeping a focus on the "big picture." We exercise sound business judgment in making high-quality decisions in a timely and cost-effective manner. We are highly creative and can dig deep within ourselves to find positive solutions to different problems.
Juice - The "Stuff" it takes to be a Needle Mover
We get things done and drive results. We lead without a title, empowering others through a can-do attitude. We look forward to the goal, mentally mapping out every checkpoint on the pathway to success, and visualizing what the final destination looks and feels like.
Teamwork - Humble, Hungry and Smart
We are humble individuals who understand how our job impacts the company's mission. We treat others with respect, admit mistakes, give credit where it's due and demonstrate transparency. We "bring the weather" by exhibiting positive leadership and solution-focused thinking. We hug people in their trials, struggles, and failures – not just their success. We appreciate the individuality of the people around us.
About the Role:
Reporting to the Vice President of Sales, the Services Development Manager will be responsible for researching, assessing, and coordinating new service builds as well as managing the development and improvement of existing services.
What You'll Do:
Oversee the Managed Services catalog lifecycle
Identify opportunities for developing marketable services from concept to operations delivery: consider sales data, competitor analysis, market trends, customer feedback, and the company's goals, brand, and values.
Delivery assessment and feasibility models to justify service deployment and readiness aligned with service delivery.
Confirm and achieve service readiness for constructed service solutions; track, measure, and report readiness against critical success factors.
Create and execute a framework for continuous catalog review and improvement against benchmarks of industry trends and developments.
Analyze industry trends and developments
Work with existing customers to understand needs and apply them to new or current offerings
Manage and coordinate service development projects by focusing on technical feasibility, design optimization, customer adoption, and success of delivery over future and existing services.
Generate service requirements, determine specifications and pricing, and develop marketing strategies.
Work effectively with other departments such as marketing, sales, and delivery operations throughout the service development process.
Develop Strategic Alliances in alignment with company strategy and revenue targets
Qualifications & Interests:
Bachelor's degree from an accredited university is required.
A minimum of 7 years as a service development manager with experience delivering Managed Services.
Problem-solving using analytical skills to evaluate information carefully and solve complex problems.
The successful candidate will demonstrate skills across:


Service Strategy
Product/ Service road mapping
Service readiness
Business acumen
Research skills
Marketing skills
Organizational skills: meeting timelines, budgets, teams, etc.
Market research and analysis
Stakeholder and cross-functional team management
Customer experience design
Competitive analysis
Partner Relationship Management

Technical acumen within the managed IT services industry relating to infrastructure, systems, and applications.
Excellent communication skills: communicating across different departments and executive leadership.
Manage budgets, oversee staff, negotiate with vendors, and set deadlines for the development process.
Strong demonstrated experience developing processes, helping resources learn to follow processes while still being able to innovate and be creative.
Ability to listen, build rapport, and credibility as a strategic partner vertically and horizontally within business units; able to build bridges across teams and job functions.
Highly skilled and experienced at negotiating conflict and problem-solving to achieve win-win outcomes.
Excellent oral and written communication and presentation skills with an ability to present technical issues to C-Level Executives and non-technical audiences.
Ability to complete multiple tasks concurrently and deliver results under timelines and pressure
The Perks:
Comprehensive medical, dental and vision plans for you and your dependents
401(k) Retirement Plan with Employer Match, 529 College Savings Plan, Health Savings Account, Life Insurance, and Long-Term Disability
Competitive Compensation
Training and development programs
Stocked kitchen with snacks and beverages
Collaborative and cool culture
Work-life balance and generous paid time off
***To all recruitment agencies: Trace3 does not accept unsolicited agency resumes/CVs. Please do not forward resumes/CVs to our careers email addresses, Trace3 employees or any other company location. Trace3 is not responsible for any fees related to unsolicited resumes/CVs.